---
DC, Guest of Honor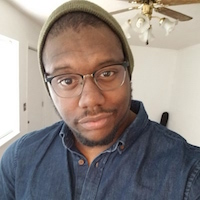 DC is a Black non-binary game designer and full-time freelancer currently residing in Seattle, WA. They're largely known for their games, "Mutants in the Night", and the ENnnie award winning "plot ARMOR". They're also a contributing designer for Wizards of the Coast (D&D), and a featured writer at D&D Beyond. DC focuses on bridging the gap between independent designers and industry titans.
Valentine Barker, Artist Guest of Honor
Based in Portland, Oregon, Valentine is a freelance illustrator and comic artist originally from San Jose, California. He studied illustration at the California College of Arts and Crafts and spends his days drawing things that make him giggle while singing Portishead songs to his dachshunds, Maxfield and Hazel.
Omari Akil, Special Guest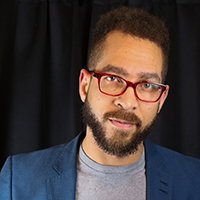 Omari Akil is a North Carolina based game designer and content creator. He is the Lead Designer of Rap Godz the board game developed by Board Game Brothas, a company he co-founded with his brother in an effort to publish more games that reach and resonate with new and diverse audiences. 
Bianca Anderson, Special Guest
Bianca Anderson is a writer, gamer, and unapologetic angry black lady. She spent six years in the AAA gaming industry in talent acquisition and user experience, before choosing to leave a pursue a new path. Bianca is vocal and passionate about about the intersection of marginalized identities and the representation thereof in geekdom – both in media and in broader geek culture. She believes in the power of a bold lip, cute clothes, strong words, and unbridled enthusiasm.
Graeme Barber, Special Guest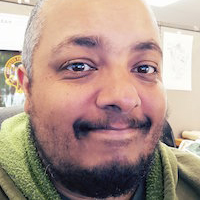 Graeme Barber is a long time player and GM, and new designer and consultant in the world of RPG's. He started his blog, POCGamer, in 2013 to address the issues of representation and racism in science fiction and fantasy media, and has since developed that concept further with his video podcast, Lore Diver. He has worked as a consultant for world building and region design, and as a freelance writer, creating the concept and background for a player race in High Level Games' upcoming Archons of Nikud game. He is currently working on some projects of his own, including a minimalist Sci-Fi RPG, Sojourner, and a rules light fantasy game in the mode of classic 16bit JRPG's. When not being a blerd, he can be found with his family, working as a GIS Technician, soldiering in the Canadian Army Reserves, or scuba diving.
You can find Graeme on Twitter or Instagram, and see his work on POCGamer.com and on YouTube.
Allie Bustion, Special Guest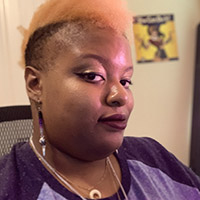 Allie Bustion is a tabletop game designer and storyteller guided by a love of popular media and analysis, life experiences, and an inordinate amount of wrestling knowledge. You can find them posting their cat on Twitter between threads or speaking on panels about their experiences with surprising earnestness. Currently, she's doing work on upcoming projects for a variety of companies and making games about the experience of being marginalized and attempting to support your community in an alternate urban fantasy past or just stealing stuff and looking cool while doing it. They even sometimes stream. It's a lot honestly but she's still going.
Aljernon Bolden, Special Guest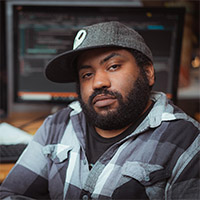 Aljernon Bolden is a Lead Engineer at Harebrained Schemes, and has spent over ten years in the video game industry as an engineer and developer specializing in products that have bridged the gap between the traditional tabletop world and video games. Over the course his career his experience has spanned from hand held electronic children's game and learning tools, to working on venerated properties such as Shadowrun and BattleTech. A life long tabletop gamer, he is also a regular participant in various Actual Play RPG broadcasts on Twitch.tv, using systems ranging from D&D 5e to the Jane Austen inspired Good Society.
Gabriel Hicks, Special Guest
Gabe you may recognize from pictures as a glorious wizard named Gilmore, a coffee shop dad named Mat, or even the ruler King Harrow. Outside of cosplay though he spends most of his time designing games and voice acting!
His most recent project has been designing a dating Sim with a twist, a goblin dating sim named Hidden Treasures. Gabe has been working as a freelance writer and designer in the tabletop industry for over two years. Currently he runs a group named Mythic Grove which focuses on supplements for fifth edition of Dungeons and Dragons.
Shareef Jackson, Special Guest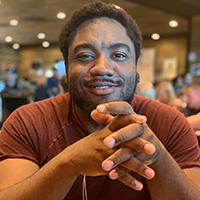 Shareef has been obsessed with technology ever since he was a child, disassembling remote controls and driving his parents crazy. After getting engineering degrees from Brown and Case Western, Shareef served as a data analyst before starting his own business in 2016.
As the founder of the math and physics tutoring service Math Looks Good LLC, Shareef's culturally relevant communication style helps break down science, gaming, and math in a way that the average person can understand and appreciate.
In addition to being a business owner, Shareef is an adjunct professor of video games and learning as well as a licensed substitute math teacher. His views on science and technology have been featured on sources such as the New York Times, NPR, Scientific American, and MacLean's. He is also featured as a co host on the video game podcast Spawn On Me, the YouTube diversity in gaming series Gaming Looks Good, the Dungeons and Dragons show Rivals of Waterdeep, and the Roll20 show Star Trek Adventures.
TK Johnson, Special Guest
TK Johnson is a freelance speculative fiction writer, editor, and eldritch horror. They can be found as a cast member of the D&D actual play shows Roll20's Jace Beleren Must Die and the Dungeon Master of Tales From the Mists–both on the official Dungeons & Dragons Twitch channel. Their work can be found in numerous DM's Guild Anthologies (such as Artifacts of the Guild, the Uncaged series, and Book of Seasons: Solstices), as well as in Kobold Press's Warlock 15: Boss Monsters.

Eloy Lasanta, Special Guest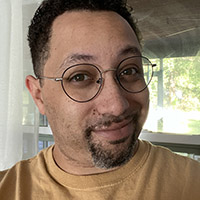 Eloy Lasanta is the ENnie-Award Winning writer/game designer responsible for games like Part-Time Gods, Ninja Crusade, Sins of the Father, AMP: Year One, The Pip System, and the list goes on. He's an avid promoter of RPGs and works hard to push for innovation in the industry. He is also Co-Owner of New Agenda Publishing, with their first game ORUN, A Sci-Fi Apotheosis RPG, due out soon! He loves to talk and has started his own Youtube Channel called "Eloy the Saint" as well, using his platform to talk about all things gaming. He's friendly, though… feel free to say hi!

Jessica Ross, Special Guest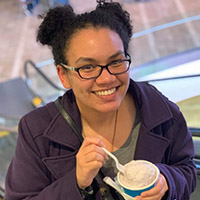 Jessica is an editor, writer, podcaster, and recovering procrastinator. In the rare moments she's not working, she's learning and playing every TTRPG she can get her hands on. She has adventures and work in Uncaged Volume I, Beyond the Basics, Morty Corgi's Scroll of Mysteries, and more on DMs Guild and DriveThruRPG, with upcoming projects for Starfinder, Scarred Lands, and more in 2020. Jess is also a Narrative Designer and Campaign Writer on Multiverse, an upcoming PC+mobile platform and re-imagining of the tabletop RPG experience. You can find all of her work on her website writejess.com and you can follow all the daily nonsense she gets up to on Twitter @writejessr.
Jabari Weathers, Special Guest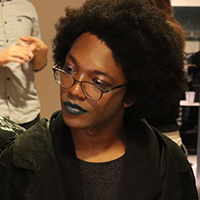 Jabari Weathers is a Black illustrator, writer, and narrative game designer who works with a gothblin flair from Baltimore, Maryland. They love the strange, unsettling and heavily existential, and often try to provoke these feelings in between moments of beauty in the artifacts they make, and are drawn to these tensions in the media they seek out.
To kick off the new decade, they have been hard at work in resolving their first tabletop RPG; an epistolary game with a nasty edge called A Dire Situation. You can find their illustration work at jmwillustration.com, their design work at lunarveil.press, and follow them on Twitter (@GoblinPrincete).