Merchant Hall
Update:
OrcaCon 2021 in-person convention has been cancelled. There will be an OrcaCon Online for the same dates. You can read more here: https://www.orcacon.org/2021/orcacon-2021-news/
We will reach out to people who have submitted before Sept 1, 2020 with more information regarding OrcaCon Online.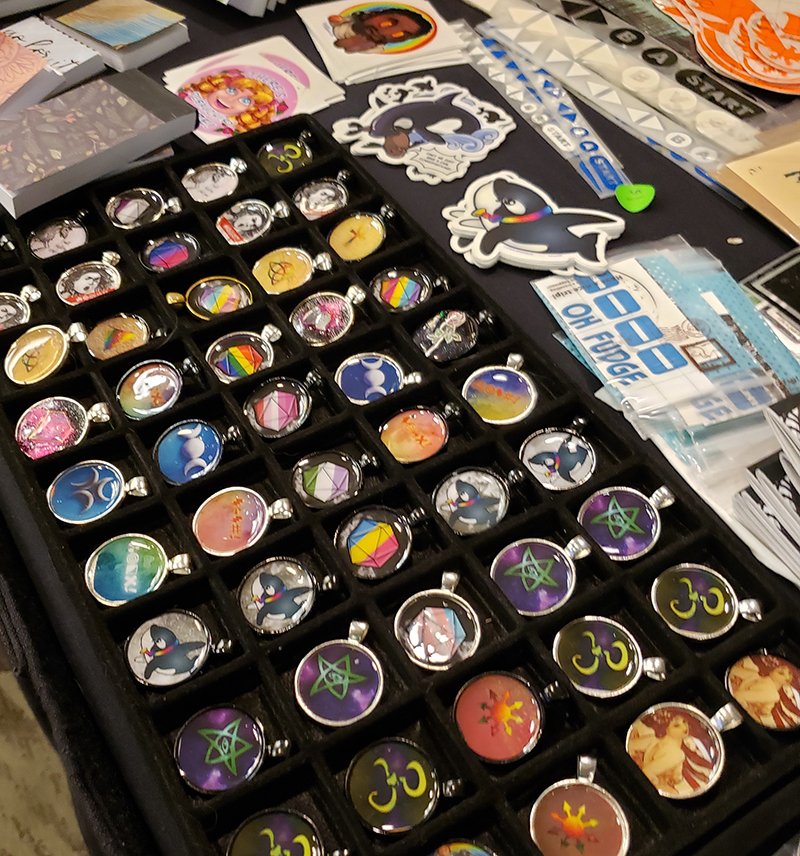 Thank you for your interest in being part of the Merchants Hall at OrcaCon 2021. OrcaCon will be held January 8-10, 2021 at the Hilton Bellevue.
If your wares or art are not related to tabletop games in some manner, it is not likely that your application will be accepted.
The Merchants Hall at OrcaCon is a juried room and we reserve the right to select dealers that we feel are a good fit. We will review each application, as we have limited space. We are looking for artisans and shops offering game & geek related merchandise, with a higher priority given to Black creators in tabletop, followed by NBPOC.
We also give higher priority to businesses focused directly on the tabletop games hobby. We imagine with so many cancelled events, we will get way more applications for the show than normal. You're welcome to contact us with any concerns or questions.
We are still planning on running OrcaCon in January. We also know that this cannot happen until it's approved Phase 4, which is when conventions can open back up. We decided to get the ball rolling and see how it goes. Best case, everyone is smart and wears their masks, stays home when possible, and practices safe social distancing. Worst case, we'll have to cancel. We will, however, have some sort of virtual OrcaCon Merchant Hall, with lots of promotion across our socials and tied into other online events. There will be no fee for the virtual marketplace. All Merchants will be refunded if they have already paid by the time a cancellation might occur.

Our Covid-19 statement is here: https://www.orcacon.org/2021/orcacon-covid-19/
OrcaCon also reserves the right to prohibit the sale of certain items in the Merchants Hall, not limited to but including non-licensed, pirated, or mature/graphic material. We do not allow scented products to be sold at OrcaCon per accessibility concerns, and no food is to be sold per Hotel Policy.
All tables and booths must be ADA accessible.
The 2020 rates:
6-foot Dealer table, with 1 full weekend convention membership: $150.00
10×10 Dealer booth, with 2 full weekend convention membership: $300.00
Additional Memberships may be purchased for $45.00 each
Applications must be submitted by Sept 01, 2020. Acceptance/denial letters will be emailed out to you by October 15, 2020, with the Merchants Hall contract and request for payment. All dealers will have 60 days to remit their payment and reserve their tables. Subletting of table space is PROHIBITED (Though you may apply for booth sharing. Both businesses will need to submit separate applications). Payments will be accepted via Check or Paypal.
All dealers are required to have valid Washington State and City of Bellevue business license and UBI Number.
The Merchants Hall will be available for set up beginning on Thursday, January 7th, 2021 after 12:00pm. The Merchants Hall will open at 8:00am for set up on Friday. All Dealers must be set up when the room opens at 10:00am on Friday and remain open during scheduled Merchants Hall hours until the room closes Sunday afternoon at 6:00pm. Any Merchant who fails to show up by opening on Friday will forfeit their space without a refund.
The Merchants Hall hours are as follows:
Friday: 10:00 AM to 6:00 PM
Saturday: 10:00 AM to 6:00 PM
Sunday 10:00 AM to 6:00 PM
Electricity is available at no additional cost. Merchants must provide their own extension cords.
Got questions? Email us and we'll get back to you as soon as we can.
General OrcaCon questions: info@orcacon.org
Merchant Hall questions: merchants@orcacon.org