---
Orion Black, Guest of Honor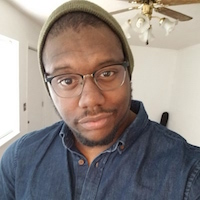 Orion Black is a Black non-binary game designer and full-time freelancer currently residing in Seattle, WA. They're largely known for their games, "Mutants in the Night", and the ENnnie award winning "plot ARMOR". Orion focuses on bridging the gap between independent designers and industry titans.
Valentine Barker, Artist Guest of Honor
Based in Portland, Oregon, Valentine is a freelance illustrator and comic artist originally from San Jose, California. He studied illustration at the California College of Arts and Crafts and spends his days drawing things that make him giggle while singing Portishead songs to his dachshunds, Maxfield and Hazel.
Omari Akil, Special Guest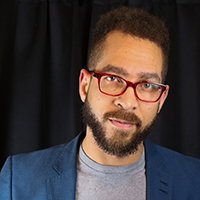 Omari Akil is a North Carolina based game designer and content creator. He is the Lead Designer of Rap Godz the board game developed by Board Game Brothas, a company he co-founded with his brother in an effort to publish more games that reach and resonate with new and diverse audiences.
Bianca Anderson, Special Guest
Bianca Anderson is a writer, gamer, and unapologetic angry black lady. She spent six years in the AAA gaming industry in talent acquisition and user experience, before choosing to leave a pursue a new path. Bianca is vocal and passionate about about the intersection of marginalized identities and the representation thereof in geekdom – both in media and in broader geek culture. She believes in the power of a bold lip, cute clothes, strong words, and unbridled enthusiasm.
Shareef Jackson, Special Guest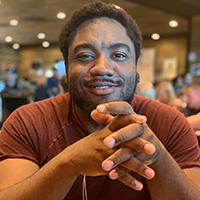 Shareef has been obsessed with technology ever since he was a child, disassembling remote controls and driving his parents crazy. After getting engineering degrees from Brown and Case Western, Shareef served as a data analyst before starting his own business in 2016.
As the founder of the math and physics tutoring service Math Looks Good LLC, Shareef's culturally relevant communication style helps break down science, gaming, and math in a way that the average person can understand and appreciate.
In addition to being a business owner, Shareef is an adjunct professor of video games and learning as well as a licensed substitute math teacher. His views on science and technology have been featured on sources such as the New York Times, NPR, Scientific American, and MacLean's. He is also featured as a co host on the video game podcast Spawn On Me, the YouTube diversity in gaming series Gaming Looks Good, the Dungeons and Dragons show Rivals of Waterdeep, and the Roll20 show Star Trek Adventures.